Here are what others are saying about

Birthday Magician Brent's
Amazing Birthday Magic Sho
w!
November 1/2014 
To Whom It May Concern:
  This was our first foray into the world of birthday entertainers, but having tired of coming up with novel ways of filling up birthday parties we were ready from something different.  Initially, we weren't sure how a magician would fare against an unruly group of children spanning various ages, but we needn't have been.  If the measure of a show is the reaction that it evokes in its' audience; Brent was exactly what those kids wanted to see.  All of them were yelling and laughing, as Brent was careful to include each child in some part of the show.  Even the parents in attendance, watching the magic show through the filter of their children's reactions, were drawn into the happening by the tricks Brent performed.
 After the birthday, our Instagram, along with Facebook and emails, were lit up with pictures from the show.  Parents started coming up to my wife and I trying to find out information on 'The Magician' from our party.  Brent even became fodder for the bus stop chatter, as parents we didn't even know would come up to us and ask about our party while they waited to pick up or drop off their kids. 
 All in all, the show went well beyond our expectations.  Brent came in with very little set up and foisted our little boy's party up onto his shoulders and never let it drop.  By the time he had finished, it became apparent that most of the stress a parent feels when hosting any event on behalf of their kids had gone.  A quick dash through food and presents, and it was all over with.  The treats Brent left behind in the goody bags ensured that none of the children would soon forget 'their' magic show. 
 Perhaps the greatest trick of all that The Magician performed was that he made a little boys party absolutely perfect, even though he wasn't a six foot ninja turtle.
 – Detlef Lehmann
September 13/2014
Hi Brent,
We want to thank you for giving our son such a fantastic and memorable birthday. We've never seen him so excited or animated. All the kids loved the magic show and thought you were absolutely hilarious. They were completely beside themselves with laughter! You did a super job controlling a room full of kids between the ages of four to eight and providing a show they all loved. Great loot bags and awesome balloon animals. We will have to get you back for our daughter's ninth birthday, too!
Thanks!
Nicole
403 606 ????
After my show a Grandmother comes up to me and says That little boy lost his dad 4 months ago and today is the first day that I've seen him smile and laugh. I just wanted to thank you
"My boy Silas had his 9th Birthday Party with the Vanishing Rabbit.  He loved it, as did all the kids in attendance.   The kids were kept entertained with numerous jokes and Magic Tricks.  Everything was age appropriate .  After the show was done and Brent was gone, there was lots of talk amongst the kids of how things went.  A lot of did u see that, and how did he do that.  They are still trying to figure out the ketchup bottle! Even the parents were impressed and mystified. I recommend this for any birthday or event needs" – Marlin G.
"Thanks so Much for coming to Justin's Birthday, he hasn't stopped talking about you since you left" – Joanne Wescott
"I though you were over priced but after seeing your show, you should be charging more"
– Diane Smithers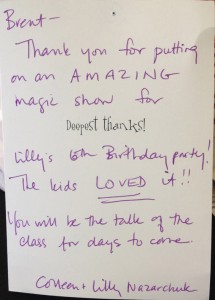 Thank you for coming to Bradley's Birthday, you made him the star of your show and they have been talking about it at school for days now.
– Cindy Dube
I called today to apologies for not hiring you, I went with the cheaper magician and realized why you charge what you do. Put us in your book for next year
-Linda Johnson
Magician Brent, Thanks for coming to my birthday party. When I grow up I want to be a magician like you and be able to do tricks. I hope one day we can hang out and perform magic
– Douglas Spiers