About Birthday Magician Brent

  Birthday Magician Brent is a leader in the field of children's entertainment, especially in Calgary – Alberta and the surrounding area. Brent Smith knows the secret of making your Kids party an awesome magical time with focus on the Birthday Child, making them feel special. With courses taken in children's psychology at the U of C,  Brent really knows how kids think and will have them belly laughing during his show. He will make your kid the STAR MAGICIAN OF THE SHOW" which will make everyone in attendance talk about the performance for days after.  
FACTS ABOUT BRENT
– Voted "First Place" in Calgary Child Magazines "BEST BIRTHDAY ENTERTAINMENT"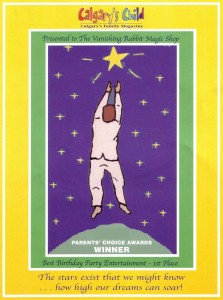 – Owns the Vanishing Rabbit Magic Shop which guarantee's you the best and most recent in Magic tricks in a fun filled up-to-date Magic show.
-Award Winning Magician – International Brotherhood of Magicians Ring 66
– IBM Order of Merlin
-Canadian Association of Magicians Board of Directors
– Past president of International Brotherhood of magicians Calgary Ring 66
– 35 Year Member of Society of American Magicians
– 6 Year Resident Magician at Montana's Family Restaurant – Beacon Hill (Top of Sarcee Trail) – Tuesday's from 5-8 pm. Come in, get introduced, watch me work before you Book my Birthday party package.
– Inducted into the Order of Merlin by the International Brotherhood of Magicians – Past President of the International Brotherhood of Magicians local Calgary Ring 66
– Current president of the Society of American Magicians in Calgary – On the board of directors for the Canadian Association of Magicians
– Performed over 48,840 Children's Magic shows
– Instructor/Owner of Western Canada's Magic Day Camp for Kids  – MEGA Magic Camp www.MEGAMagicCamp.com
– Raised and donated $2500.00 in Magic shows, Cash and Magic Tricks during the 2013 Calgary/High River  Flood
– Raised thousands of dollars for charities on COHO's Western Canadian Magic tour
-As Seen on CBC – TV, CFCN Television, A-Channel's Big Breakfast, Global Television, City Television, Shaw TV, SAIT Television, RDTV-Red Deer, CITL Television, CKSA Television, XL 103 Calgary Radio, C.B.C Radio, S.A.I.T Radio and numberous Newpaper and magazine articles
– Fully Insured